BECOMING A DRIVING INSTRUCTOR WITH A1
A1 Driving School Ltd is currently looking to extend their team of driving instructors.
To become a driving instructor you need to meet the following requirements:
Have a very good command of the English language
Be a NZ resident or have a work permit to work as a driving instructor in NZ
Have held your full NZ driving licence for at least two years
Have a clean driving record
Have financial security to set yourself up to be self employed
Have a lot of patience and excellent communication skills
Have a passion for driving and do this to a very high standard
Be flexible in your hours of work and are able to work weekends
Be very organised and tidy
Successfully complete an I endorsement course
A female instructor would have our preference
For more information on becoming a driving instructor, click HERE
If you think this is you, please send us an email with your details and we will contact you

info@a1drivingschool.co.nz

attn: Harald Leeuwenburgh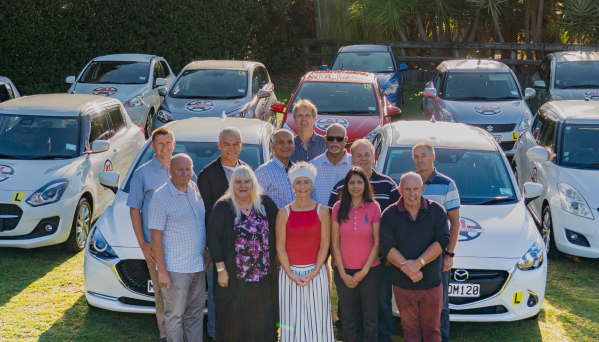 | | | |
| --- | --- | --- |
| | | |
| | Want To Join The A1 Driving School Team? | |
| | | |
May 21, 2012 at 2:37 PM
What Are the Legal Requirements to Become a Driving Instructor?
The first step to becoming a driving instructor in New Zealand is understanding and meeting the legal requirements set by the New Zealand Transport Agency (NZTA).
Full New Zealand Driving License: You must hold a full New Zealand driving license for at least two years for the class of vehicle you wish to instruct in.
Fit and Proper Person Check: This assessment considers your character, including any criminal and driving history.
Medical Assessment: You must be physically and mentally fit to ensure the safety of yourself and your students.
I endorsement: You must pass a I endorsement course from an approved course provider. This course covers driving instruction's legal aspects and ensures you have the necessary teaching skills.
Endorsement Test: After completing the course, you must pass the I endorsement test administered by the NZTA.
Once you satisfy these legal requirements, you can apply to be a driving instructor.
How Do You Apply to Become a Driving Instructor?
Once you meet all the legal requirements, you can apply for a Driving Instructor's endorsement.
Application Form: Complete the DL20 application form, available on the NZTA website.
Supporting Documents: You'll need to submit necessary documents like proof of your full New Zealand driving license, a medical certificate, a certificate of completion for the I endorsement course, and any other required documents.
Application Fee: Pay the necessary application fee.
The NZTA will review your application and, if approved, grant you a Driving Instructor's endorsement.
What Skills Do You Need to Be a Successful Driving Instructor?
Being a driving instructor requires more than just driving skills. You also need to have:
Excellent Communication Skills: You need to communicate effectively with your students to ensure they understand the rules and safety measures.
Patience: Learning to drive can be a daunting experience for many, and as an instructor, your patience can help put your students at ease.
Good Teaching Skills: This includes being able to provide clear instructions and feedback to help your students improve.
In-Depth Knowledge of Road Rules and Safety: As an instructor, you're not just teaching your students how to operate a vehicle; you're also teaching them about road rules, signs, and safety precautions.
What Are the Opportunities and Limitations of Being a Driving Instructor?
Opportunities
Flexibility: As a driving instructor, you have the flexibility to set your own schedule.
Teaching Variety: You can choose to specialize in teaching different types of driving like defensive driving, heavy vehicle driving, or special needs driving.
Self-Employment: Many driving instructors operate their own business, giving them control over their income and business growth.
Limitations
Income Fluctuation: As with any self-employed job, your income can fluctuate depending on the number of students you have.
Working Hours: You may need to work during evenings and weekends when students are available.
Initial Investment: You'll need a suitable vehicle for teaching, and this can be a significant initial expense.
Becoming a driving instructor in New Zealand requires meeting specific legal requirements, but it can certainly be a rewarding career choice. Not only does it offer flexibility and the opportunity for self-employment, but it also provides a chance to play a significant role in shaping responsible drivers, contributing to safer roads in New Zealand.
How Can You Advance Your Career as a Driving Instructor?
After becoming a licensed driving instructor, there are several avenues for career advancement.
Specialize: You could choose to specialize in a specific area of driving instruction, like teaching disabled drivers, advanced driver training, or commercial vehicle instruction.
Expand Your Business: If you are self-employed, consider expanding your business. This could involve hiring additional instructors, adding more vehicles, or extending your services to new areas.
Continuous Learning: Stay updated with changes in road laws and regulations. Consider taking additional courses to improve your teaching skills or learn new areas of driving instruction.
What Impact Does a Driving Instructor Have on Society?
As a driving instructor, you will have a significant impact on society. You will be equipping new drivers with the skills and knowledge they need to drive safely. Every student you teach to be a responsible and conscientious driver contributes to the overall safety of New Zealand's roads. Furthermore, by teaching good driving habits, you're helping to reduce the number of road accidents, making the roads safer for everyone.
So, becoming a driving instructor in New Zealand requires a certain commitment to meet legal requirements and the skills necessary for effective teaching. It's a profession that offers several opportunities, including flexible work hours, the chance for self-employment, and the ability to specialize. While there may be some limitations such as income fluctuation and initial investment costs, the rewards of shaping responsible drivers and contributing to the overall road safety make it a fulfilling career choice.
A1 Driving School is looking for driving instructors – read more.