Guide To Trucks & Heavy Vehicles
May 02, 2019 at 1:42 PM
GUIDE TO TRUCKS & HEAVY VEHICLES
Jump To:
Truck Training In All Classes
Class 2 Driver Training

Truck Training In All Classes
Truck training cannot be easily summarised. After all, there are so many types of trucks out there, and one class of licence is not enough to drive them all.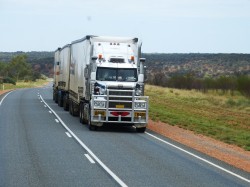 Truck classes are categorised into the following – Class 2, Class 3, Class 4 and Class 5. No one size fits all when it comes to trucks. Fortunately for you, we offer truck driver training in all classes, from the small light commercials, often seen doing deliveries around town, right up to the real heavyweights of the truck world – combination vehicles weighing in at over 25 000 kg. Learning to drive one of these things takes skill – but we can pass on all the skills you need.
Covering The Classes
A Class 2 licence lets you drive a single vehicle over 4, 500 kg up to 18, 000, or a combination vehicle over 4, 500 kg but less than 12, 000 kg. A Class 3 licence allows you to drive a combination vehicle of more than 12, 000 kg but less than 25, 001 kg. Generally, you can move straight from Class 2 to Class 4 as not many vehicles are categorized under Class 3. A Class 4 licence allows you to drive a single vehicle over 18, 000 kg. A Class 5 licence allows you to drive any combination vehicle over 25, 000 kg.
Spend Less Time Getting Your Truck Licence
Receiving professional tuition from us as you strive to gain your truck licence has several benefits. For a start, you're learning from experts who can teach you how to become highly competent behind the wheel of these bigger machines. Also, we offer time reduction courses for classes two, three, four and five...meaning you can update your CV, or start driving the company truck, sooner.
Theory Matters Too
Of course, jumping into the cab and learning the practical skills required to drive a truck is an important part of our tuition. But we haven't overlooked the theoretical side of the equation. We offer theory lessons in all classes, and as all our courses are Land Transport Safety Authority approved, you know your tuition will actually be the real deal.
Associated Endorsements
Truck training is not the only service we provide when it comes to larger vehicles. Our endorsement courses give you the opportunity to further your career in a variety of ways. For example, our F endorsement allows you to drive a forklift on the road or in an open warehouse. A DG endorsement allows you to transport dangerous goods. While a P endorsement allows you to transport passengers for hire or reward. Ask us about endorsement courses, or truck training...or both! We've got it all covered, regardless of the course, regardless of the class.
Class 2 Driver Training
Need Class 2 driver training? You're in the right place. You might need a Class 2 licence to perform a certain role in your current job, or you might want to make yourself more employable by adding this licence to your CV. Whatever the reason, we offer professional driving courses in Class 2 – in fact, we teach Classes 1 to 5 inclusive at our Auckland driving academy.
Class 2 Driver Training – The Bare Facts
A Class 2 licence pertains to what is commonly referred to as a light commercial vehicle – a single rigid vehicle over 4,500 kg and up to 18 000 kg, or a combination vehicle over 4,500 kg but less than 12,000 kg. Before you start a course to earn your Class 2 licence, you must first have a full car (Class 1) licence. You also need to supply a medical certificate within 60 days of applying for such a licence.
Why A Class 2 Licence Looks Good On Your CV
A Class 2 licence is one step up from a car licence. This licence allows you to drive the type of smaller commercial vehicle used for suburban deliveries or short-distance haulage. In these days where multitasking is everything, the ability to be able to drive one of these popular vehicles will stand you in good stead, even if driving the company truck isn't your core responsibility.
Retailers, manufacturers and wholesalers all use these trucks - they're a common fixture on our roads. Being able to drive one, when most of your colleagues can't, is a skill that will impress any potential employer.
Our class 2...class! We cover everything you need!
It's back to the books if you want a Class 2 driving training! In this case, it's the Road Code for Class 2 Heavy Vehicles. Once you've studied this Road Code, you sit for the Learner Licence test at an approved licensing agent. Or, you can do all this with us. Once you've completed that part of the test, you can commence the course with us.
Our training is carried out on a weekly basis and involves two theory unit standards, driver training and a practical assessment. After you've successfully completed your course in Class 2 driver training, we'll give you an NZTA Certificate. Take the certificate to your licensing agent to receive your Class 2 licence.
Because we handle all aspects relating to Class 2 licence training, from the Learner Licence test to the course itself, we make everything an exercise in convenience. And, like all of the driver training we do, the course is run by qualified instructors who have years of experience and knowledge to impart.
As we said at the beginning, if it's Class 2 driver training you're after, you're in the right place!