May 02, 2019 at 1:33 PM
GUIDE TO YOUR FIRST CAR
Jump To:
Tips For Buying Your First Car
All About Cars - FAQ
Tips For Buying Your First Car
Buying your first car can be an exciting milestone! One of the things that you are obtaining along with your first car is your freedom. Car buying is never easy and especially so if it's the first time. It takes proper planning and good decision making to make sure that you get the best value for your money.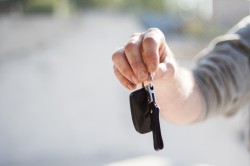 The most important thing is to be patient. Do not be in a rush. Rush decisions – you might know this from experience – do not turn out well most of the time. Consider your options and make a decision based on information and nothing else.
The process can be a bit tricky and confusing but with these few tips, the process will be a bit easier. It is important to keep common sense at the front of your mind when you buy a car because you want it to be a good experience.
Here are some tips for buying your first car:
Make a budget – I know it seems like the first tip in all buying guides is budgeting. But that's because it's the most important thing when buying anything. It's important that you calculate how much you are willing to spend without affecting your usual living standards too much. This should include monthly spending as the car will require fuel, insurance and car payment if you choose to use a financing option. Keep it affordable or this might be the last major thing you ever buy.
Buy a car that you can afford - If you purchase a car on finance it can take a lot of time and effort to pay that car off. When you are looking at cars, have a price range in mind before you start shopping, decide what you can afford and stick to that to avoid high car payments. Try to buy your car with cash so that you do not have payments, but if you need financing, get approval in advance of shopping around to buy a car.
Know your needs – Does the car suit your needs? You might get the urge to buy a convertible in the spur of the moment or a pick-up truck for those times you need to transport your stuff. But is it practical? Can you use the vehicle every day? Can the need you want to satisfy be satisfied with a once in a while rental? These are questions you need to ask yourself.
Identify your wants and prioritize them – It is not feasible to get a new car every 18 months. You will be stuck with your purchase for a while. It is thus important that the car fulfils all your most important needs even if it will stretch your budget by just a bit.
Research – Researching on a good car to buy has never been easier. With the internet, you can do all the research you need in the comfort of your home. Check out different dealers and what they are offering and compare prices. Determine a reasonable price range before you start to shop around. You should have an idea of what is a good price for a certain year of that make and model and this will allow you to negotiate a fair deal so you do not pay too much. Read reviews from users and critics alike. Compare your options and then make a decision. But remember, whether used or new, never buy a car online without inspecting it physically: first impressions can be deceiving.
If you buy a used car, try to locate and read about its history - There are many different providers of this information and they all show the same type of thing, including a history of the vehicle maintenance and if the vehicle was involved in an accident in the past.
If possible, purchase your car from an individual rather than a car dealer - You will end up getting a much better price and you may be able to afford the cost of the car without financing. Car dealers can pressure you into making a purchase. While private sellers want to sell their car, they are not going to pressure you like a car dealer.
Choose a car that has a lot of life left in it – if it is used (which is highly likely). If you are not sure about the condition of the car, take it to a local mechanic for an inspection to make sure that it is in good running condition and that there are no expensive hidden repairs that you might be responsible for. Take someone with you when you look at cars, that has some knowledge about car engines and body condition.
Find a car that you can drive – if you do not know how to drive a standard, then you do not want to purchase a standard vehicle. It is worthwhile to take driving lessons to ensure that you are able to drive well before you purchase a vehicle.
Take a test drive – If it's a used car or a new car, ask the seller to let you test drive the vehicle. The longer the period you can drive it the better. You cannot begin to understand the problems in a vehicle unless you take it out for a spin. Major problems can be detected as soon as you turn on the ignition. Insist on a test drive. Just because a car "looks good" does not mean it will be a good car to drive. Test driving the car will also let you determine if the car is in good condition and has any issues – braking problems, transmission problems, etc.
Get the car inspected by a reputable mechanic – This only applies to used-cars. Do not, I repeat, do not rely on the sellers word. The seller may be looking to make an easy buck by selling you junk. Give the car to a good mechanic for a comprehensive check-up. This will help you adjust your budget appropriately for any repairs necessary.
All About Cars - FAQ
Q: What is a suitable first car?
A: A small to medium size car with good visibility all round
Q: What to look for when purchasing a car?
A: Age, mileage, service history, safety features, running cost, purchase price
Q: How important is a cars safety rating?
A: Very important. Try and buy a vehicle with at least a 4 Star ANCAP rating
Q: What is a 'light' vehicle?
A: A small vehicle
Q: Why do car batteries fail?
A: Batteries have a certain amount of life span.
Q: How do I find out the age of a car?
A: On the registration sticker, which is on the left side bottom of the front windscreen
Q: Where do I locate the VIN on my car?
A: Usually under the bonnet against the firewall, otherwise have a look in your "owners manual" for the VIN number location.
Q: How often should you check your tire pressure?
A: Once a month
Q: How often should my car be serviced?
A: Most vehicles should be serviced every 6 months or 10.000 kilometers. Which ever one comes first
Q: How do I know how much air pressure should be in my tires?
A: Check your "owner's manual". Most vehicles should have 32 PSI
Q: What is cold tire pressure?
A: When the vehicle has not been driven much yet. The tires are still cold.