Driving Preparation - Learner Driver Tips [EBOOK] Ch 1
April 30, 2019 at 11:11 AM
In Chapter 1, learn about the essential items to always keep in your car as well as how to properly check your tyres before a trip.
Jump To:
1.1 FIVE ESSENTIALS TO ALWAYS HAVE IN YOUR CAR
1.2 CHECKING YOUR TYRES BEFORE A TRIP
1.1 FIVE ESSENTIALS TO ALWAYS HAVE IN YOUR CAR
You never know what could go wrong when you're out on the road, that is why it's necessary to be prepared for any eventuality in order to keep yourself safe or get yourself out of a fix when you need to. Having these five items in your vehicle at all times will help you when faced with most of the common problems you could encounter when driving.
First aid kit. Even when it's not the result of a crash, injuries can happen when you're out driving. A first aid kit will help you treat injuries on the go or stabilise them until you can get professional assistance.
Reflective triangle. A reflective triangle will come in handy in case your car breaks down on or dangerously close to the road. Placing it a few metres back warns other drivers of an oncoming hazard thus preventing a collision.
Jumper cable. Car batteries often fail without warning. A jumper cable will help you use another car's battery to start your car in case yours is drained.
Spare tyre/tyre repair kit. A flat tyre can leave you stranded in the middle of nowhere, make sure you always carry a spare or a tyre repair kit at the minimum. Also, make sure to carry the tools needed to change the tyre i.e. jack and wheel brace.
Fire extinguisher. Fires are not uncommon in motor vehicles, having a fire extinguisher with you will help you put them out before they get out of hand.
Take a look at our 5 Essentials video.
1.2 CHECKING YOUR TYRES BEFORE A TRIP
Your tyres are some of the most important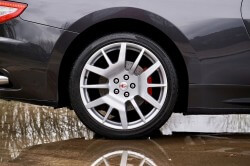 components of your vehicle and play an integral role in keeping you safe when driving. As such, you need to check them regularly and before long trips to ensure they're in good condition.
Things to look for when checking your tyres:
Tire pressure. Check your vehicles owner's manual for the manufacturer's recommended tyre pressure. Make sure to check the pressure when the tyres are cold – i.e. the car hasn't been driven for at least 3 hours or has been driven for less than 2km at low speed.
Tread depth. Your car's tyres have a tread depth of about 8mm when new. It's recommended that you get them changed when the treads wear to a depth of 2mm, but the legal limit is 1.5mm. Use a tread depth checker to find out whether your tires are safe. Also check that the tyres are wearing evenly, if not, you might have misaligned wheels.
Visible damage. Check your tyres for bruises, bumps, bulges, cracks, splits and cracks on the sidewalls and tread area. If any, get the tire checked by a professional.
Back Next Chapter
Table Of Contents Driver Safety
Category: A1 Learner Driver Tips EBOOK