Roundabouts - Learner Driver Tips [EBOOK] Ch 12
April 30, 2019 at 11:22 AM
In Chapter 12, learn all about roundabouts from the approach and picking a safe gap to safely using the roundabout.
Jump To:
12.1 USING SIMPLE ROUNDABOUTS – THE APPROACH
12.2 USING SIMPLE ROUNDABOUTS – PICKING A SAFE GAP
12.3 TIPS FOR USING MULTI-LANE ROUNDABOUTS
12.1 USING SIMPLE ROUNDABOUTS – THE APPROACH
When you are approaching a roundabout, make sure to always look well ahead to get a clear idea of how it's laid out and how busy it is. This will make working out your exit route and positioning your car to get on to the roundabout easier.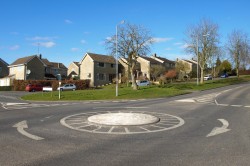 Once you are close enough to the roundabout, you'll need to follow a routine quite similar to that for approaching an intersection, which is as follows:
Check your mirrors for traffic behind you as you start decelerating for the roundabout.
Indicate early enough – right for right, left for left and no signal (yet) for straight through.
Plan your course including the exit you want to take.
Slow down as you approach the roundabout.
Shift the gear to 2nd or 1st if you'll need to stop.
Find a gap in the flowing traffic.
12.2 USING SIMPLE ROUNDABOUTS – PICKING A SAFE GAP
It can take quite some time before you get used to picking safe gaps at roundabouts since vehicles will be travelling at different speeds, but with enough practice, it should become second to nature.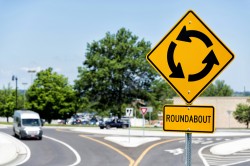 How to pick a gap at a roundabout
You can tell the direction a car will be going based on how fast it is travelling. Cars that are travelling straight through will generally be travelling at a faster speed than those that will either turn left or right at the roundabout.
Checking the direction the vehicles are signalling will also allow you to adjust your approach appropriately.
You should also remember to look out for cyclists when picking a gap. They could be hidden from site by larger vehicles so keep this in mind to avoid any mishaps.
Finally, if you are not sure whether you'll fit in a gap or not, wait until you're sure to ensure your safety and that of other road users.
12.3 TIPS FOR USING MULTI-LANE ROUNDABOUTS
As you would with any other kind of intersection, you'll need to look well ahead (about 12 seconds ahead) when you are approaching a multi-lane roundabout. This will help you work out the lane and the exit you will need to take to get where you want to go. Make sure to look for lane markings and signs ahead to help you do this.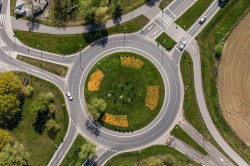 Important tips
Look out for large vehicles such as buses that could move out of their lane and let them go first.
If you need to change lanes to get to your exit while travelling on the roundabout, follow the correct procedure for changing lanes.
Practise on simple roundabouts to build your confidence before moving on to a multi-lane one.
Stay alert at all times as some drivers can give signals that are misleading at roundabouts.
Previous Chapter Next Chapter
Turning Reversing & Parking
Category: A1 Learner Driver Tips EBOOK