General Driving - Learner Driver Tips [EBOOK] Ch 4
April 30, 2019 at 11:14 AM
In Chapter 4, learn about the basics of driving on both sealed and unsealed roads which may or may not have a centre-line. Also, read up on dealing with special vehicle lanes.
Jump To:
4.1 HOW TO DRIVE ON SEALED ROADS WITHOUT THE CENTRE-LINE
4.2 DRIVING ON UNSEALED ROADS
4.3 HOW TO DEAL WITH SPECIAL VEHICLE LANES
4.1 HOW TO DRIVE ON SEALED ROADS WITHOUT THE CENTRELINE
Sealed roads that don't have a centreline are usually more winding and narrower than those that have a centreline. This significantly increases the risk of a head-on crash, as the lack of a centreline makes it harder for drivers to judge the position of their vehicle on the road.

Here are some tips for driving on sealed roads without a centreline:
When driving on roads that don't have a centreline, you might need to stop in half the distance of the visible road in front of you to avoid a collision. So, make sure to maintain a speed that will enable you to do this.
Be on the lookout for driveways and intersections as they're often hard to spot on country roads.
Position your car as far to the left as you safely can when driving.
Keep an eye out for pedestrians and cyclists as these roads usually lack designated paths for them.
Look out for other road users including farm vehicles such as tractors, quad bikes and even animals. Look as far as you can and be ready to stop.
Slow down when approaching bridges as they are only one way and you might be required to give way.
An unsealed road in simple terms is a road made of loose materials such as gravel or dirt. This kind of road is usually found in the country. You need to be calm and patient when driving on them so as to maintain full control of your vehicle.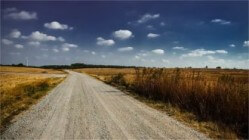 Here are the things you should do to maintain control of your vehicle when driving on an unsealed road:
Keep your movements smooth and gradual i.e. do not make sudden movements when accelerating, braking or steering.
If a car approaches you, slow right down and steer your car as far to the left as you safely can. This will reduce your dust cloud and reduce the likelihood of loose stones chipping your windscreen.
Don't pull over to the side of the road too quickly as gravel along the sides is often deeper and looser and can make it difficult to brake or steer.
If you happen to find yourself in deeper gravel, slow right down and steer the car out slowly. Don't jack the wheel quickly as this could flip your car.
Make sure to increase the following distance as dust thrown up by another car can make it difficult to see ahead.
4.3 HOW TO DEAL WITH SPECIAL VEHICLE LANES
There are different types of special vehicle lanes on the road; they include transit, bus and cycle lanes. These special lanes are differentiated from regular lanes by road markings or signs. You are not allowed to use these lanes if your vehicle does not meet the conditions set for driving on them.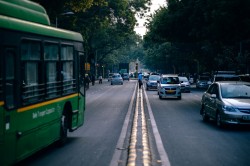 You can, however, drive on a special vehicle lane if you are:
Turning, or
Driving to a vehicle entrance or parking space
Follow these steps when merging into a special lane:
Perform a mirror check.
Indicate for a minimum of 3 seconds.
Perform a blind-spot (shoulder) check.
Give way to all vehicles on the lane including cyclists.
Smoothly steer into the lane.
Once on the special lane, keep in mind that you are not allowed to drive on it for more than 50 metres while performing your manoeuvre
While some special vehicle lanes are in operation 24/7, others operate during a specific time. Make sure to check and follow the rules for using any special vehicle lane.
Previous Chapter Next Chapter
Driver Safety Driving Skills

Category: A1 Learner Driver Tips EBOOK