Driving Skills - Learner Driver Tips [EBOOK] Ch 5
April 30, 2019 at 11:15 AM
In Chapter 5, learn about the different skills required as a driver on the road from basics such as steering and indicating to more complex skills such as reversing with a trailer.
Jump To:
5.1 STEERING A CAR
5.2 WHEN TO INDICATE
5.3 URBAN DRIVING – HOW TO DEAL WITH TRAFFIC LIGHTS
5.4 TIPS FOR DRIVING ON SUBURBAN STREETS
5.5 CHANGING GEARS IN A MANUAL CAR
5.6 STARTING AND STOPPING SMOOTHLY
5.7 HOW TO USE FLUSH MEDIANS
5.8 DRIVING AT HIGHER SPEEDS – WHERE TO LOOK
5.9 DRIVING AT HIGHER SPEEDS – CAR POSITIONING AND FOLLOWING DISTANCE
5.10 DRIVING AROUND CURVES – SPEED CONTROL
5.11 DRIVING AROUND CURVES (AT HIGHER SPEEDS) – CAR POSITIONING
5.12 HOW TO OVERTAKE
5.13 HOW TO DO A THREE POINT TURN
5.14 HOW TO SET UP YOUR TRAILER
5.15 HOW TO REVERSE WITH A TRAILER
Proper hand positioning is very important when steering a car. Your hands should firmly hold the steering wheel in the quarter to three position every time you're driving. This is a safety precaution that ensures your hands don't get in the way of the airbag in case of an accident.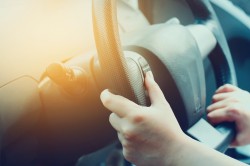 When steering, always remember to:
Keep each hand on its side of the steering wheel; don't cross them over when turning.
Pass the wheel from one hand to the other when turning so that your arms do not cross over the wheel.
Hold the wheel firmly (not so much as to strangle it) with your thumbs up and not locked around the wheel.
How to steer
When steering, you should:
Slow down to a safe speed before turning.
Make smooth adjustments to the car's speed going in and out of turns.
Control the car out of turns – don't let the car do it.
Look 12 seconds ahead to where you want to go instead of focusing on the road immediately in front.
Remember, steering takes practice so try it out in an empty space before you go out on the road.
Watch our video on how to steer your vehicle.
Signalling or indicating is a simple safety and courtesy task that drivers are required to do when driving. It lets other road users know what you intend to do so that they can react accordingly.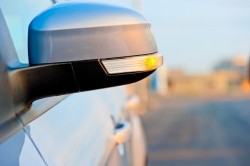 You need to give adequate warning of your intention to allow other drivers, cyclists and pedestrians time to react to your signal. The minimum indicating time is 3 seconds.
You are required to indicate in the following situations:
When turning right or left.
When changing lanes or any other time you cross the centre line.
Whenever you have to move left or right by the width of your car or more.
When pulling out or into a kerb.
When entering or leaving a park.
When merging after your lane comes to an end such as when joining a motorway from a feeder lane.
At roundabouts.
Remember to always turn off your indicator (if it doesn't do so automatically) after making your turn to avoid confusing other road users.
5.3 URBAN DRIVING – HOW TO DEAL WITH TRAFFIC LIGHTS
Traffic lights are a major part of driving in urban areas. Their j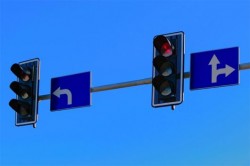 ob is to control the flow of traffic at busy intersections where many vehicles might want to pass at the same time.
Here is how you should approach and drive through intersections controlled by traffic lights:
Prepare to stop as you approach the intersection
If the green light turns yellow, you are required to stop if it's safe to do so.
You should be aware of where the 'point of no return' is. This is the area where you won't be able to stop safely. If the light switches to yellow when you are beyond this point, don't change your mind and jam on the brakes as it will already be too late.
Keep the blocking rule in mind
Ensure there is a big enough space on the other side of the intersection before you enter – otherwise, you will get stuck in the middle once the lights change.
You can use the intersection as you wait to turn
If you want to turn right, there isn't a right-turning arrow, and nobody else is already waiting in the intersection, you're allowed to drive into it and wait for a gap in the traffic flowing straight through.
Turn right when it's safe to go, even when the lights change to yellow or red – but ensure straight-through traffic has stopped before turning in front of them.
5.4 TIPS FOR DRIVING ON SUBURBAN STREETS
Driving on suburban streets is actually more hazardous than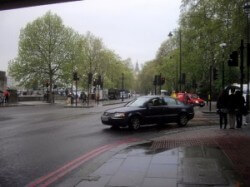 you might assume. There're a few things you need to keep in mind to ensure both your safety and that of other people using the road.
Here are some tips for driving on suburban roads:
Always stay alert when you are driving near cars parked on the side of the street – pedestrians and children can be difficult to spot if they stand behind the parked vehicles when crossing the road.
Be extra careful when you are driving in areas where children could be present such as playgrounds and schools.
Watch out for give-way and stop signs, as well as unmarked intersections as these are potential risk areas.
Always drive below the speed of 50km/h unless there's a road sign with different instructions. This makes it easier for you to react to any unforeseen hazards.
5.5 CHANGING GEARS IN A MANUAL CAR
Driving a manual car is a bit more involving than driving an automatic.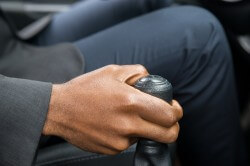 You will need to shift gears as your car's speed increases or decreases. It takes a bit of practise, but you'll be ok if you follow the steps below.
Starting the vehicle and putting it into gear

Before you start the car:
Ensure the handbrake is on
Press the clutch all the way in
Check the car is in neutral. The lever should be in the middle space between gears
Now, with the clutch still pressed in:
Ignite the engine
Shift to the 1st or reverse gear depending on the direction you want to go
Prepare to set off

Shifting gears when driving
To change gears when driving:
Swiftly press in the clutch.
Shift into the next gear down or up – depending on whether you are increasing or decreasing speed.
Slowly let out the clutch.
Keep your eyes fixed on the road when changing gears, not looking down at the gear lever. Do some practice with the engine off to get comfortable shifting without looking before you hit the road.
5.6 STARTING AND STOPPING SMOOTHLY
An important skill as teens learn how to drive a car is starting and stopping smoothly.
Sudden starts or stops can be dangerous. You may lose control of your car or other vehicles may hit you. Learning how to drive a car is also learning how to interact with other cars so you don't hit them and they don't hit you.
Sudden acceleration may hit the car in front of you. Sudden stops may cause the car behind to crash into you.
Driving a car involves many starts and stops and you need to practice doing them properly.
Starting and Stopping Smoothly
Before you start the car: Locate the accelerator and the brake pedal. Put your foot in position with your heel on the floor so you can swivel back and forth between the accelerator and the brake comfortably.
Make sure the car is in PARK. Now start the car. With your foot on the brake, put the car in 'Drive'. Slowly lift your foot off the brake. Do not give the car any gas. The car will move forward slowly.
This will be all the speed you need for some manoeuvres. Hover your foot over the brake in case you need to stop suddenly. Lift it slowly off the brake to start moving again. You can practice as you learn to drive.
Repeat the same manoeuvre in 'Reverse.' This slow speed is all the speed you'll need for backing up in many cases. Don't forget to walk around behind the vehicle before you back up.
Braking Smoothly
It's important to be able to stop smoothly when driving a car. When you brake, you use your right foot. That's the same foot you use for the gas. Your heel should be on the floor so you can swivel your foot easily between the gas and the brake.
Continue Practicing
To be able to learn how to drive a car safely you need to practice starting and stopping until you get the feel for the accelerator and brake pedals and can apply pressure evenly. Then give the car a little gas and watch the speedometer to see how fast you're moving.
Practice on a quiet street or an empty car park. Make this a part of your Learn to Drive checklist.
When you're driving, your eyes will be moving constantly between your mirrors and the road ahead. You'll also need to keep an eye on how fast you are going so get in the habit of glancing at your speedometer often.
Continue to increase your speed until you can stop and start smoothly at low speeds. This is the kind of starting and stopping you'll be doing most of the time – smooth and controlled. But sometimes you'll need to stop suddenly and that takes additional skill and generally forms part of a defensive driving course.
Flush medians are diagonally painted stripes found in the middle of the road. They are useful when you want to turn right – onto or off the main road. They provide a safe place to stop and await a safe gap in the traffic without holding up other vehicle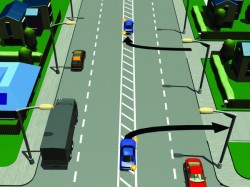 s. Other than for this purpose, flush medians are generally not meant to be driven on but can be used to turn off or onto main roads.
Follow these steps when using a flush median to get off or onto the main road:
Plan your approach in advance by thinking of where you want the car to be on the flush median.
Get into the right lane if you are using a multilane highway.
Check your mirrors and blindspot; signal; check your course; brake and shift down (for manuals).
Turn onto the flush median and stop if you need to.
Find a gap you are comfortable with and join the traffic when it's safe to go.
Accelerate to match the speed of other vehicles.
5.8 DRIVING AT HIGHER SPEEDS – WHERE TO LOOK
Driving fast means that you have less time to react to hazards and the car responds differently than it would at lower speeds. These two factors significantly increase your chan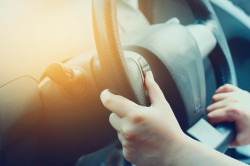 ces of having a crash. Therefore, you need to use your eyes more to know exactly what is going on behind you, ahead of you, and around you.
Here are some tips on where to look when driving at higher speeds:
Look 12 seconds ahead or more for any possible hazards and regularly scan between your car and the point 12 seconds ahead. Remember that 12 seconds is a lot further when you're travelling at 100km/h than when you are travelling at 40km/h.
Keep your eyes on side roads, other lanes and merge lanes to know what is happening around your vehicle.
Keep checking your mirrors regularly especially when slowing down. How often you need to check your mirrors depends on the speed you are travelling at, the amount of traffic on the road, as well as the road conditions.
5.9 DRIVING AT HIGHER SPEEDS – CAR POSITIONING AND FOLLOWING DISTANCE
Because things happen a lot faster when you are driving at a higher speed – which gives you less time to react –, the best way to stay safe is to leave a large enough space buffer around your vehicle.
This can be done by counting the distance in terms of time from the car ahead of you.
Always remember to allow:
At least a 2-second buffer in good conditions.
A 3-second buffer when you're still learning to drive
A 4-second buffer when the weather is bad or at night.
When driving on roads with multiple lanes, keep left unless you are overtaking or turning right and ensure your vehicle is in the middle of the lane you are driving in.
5.10 DRIVING AROUND CURVES – SPEED CONTROL
Driving around curves at higher speeds takes both skill and a cool head. That's because you will have less tim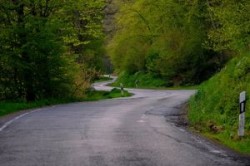 e to react and your vehicle will handle differently.
Controlling your speed is essential to ensuring you negotiate curves safely.
Here are some tips on how to control your speed:
Check and use the recommended speed on a turn if there is a sign.
Reduce your car's speed before reaching the curve for more control.
Slow down further for sharp curves and when the conditions are not good.
Avoid breaking during the curve as this reduces the grip and stability of your car.
Shift down before the curve if it's necessary.
If you are driving through a series of downhill bends, brake firmly when on the straight parts and more gently on the curves.
Maintain uniform speed around the curve unless you entered too fast or the curve gets tighter.
Accelerate back to your cruising speed when the road ahead starts straightening.
5.11 DRIVING AROUND CURVES (AT HIGHER SPEEDS) – CAR POSITIONING
To be able to take a curve safely while travelling at high speed, you'll need to position your car corre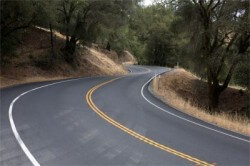 ctly – both during the approach and while moving through the curve.
Here are some tips for positioning your car properly when driving around a curve at high speeds:
Reposition your vehicle before the curve to get a straighter course through the curve and a better view. Your car should be positioned more to the right for left-hand curves and more to the left for right-hand curves.
Maintain a safe distance from any roadside hazards and oncoming traffic.
Ensure you do not cross the centreline (keep your vehicle on the left side of the line) as this is not only illegal but dangerous as well.
If you are stuck behind another vehicle and you decide it is safe to overtake, the next step you need to take is to pass the vehicle safely and smoothly.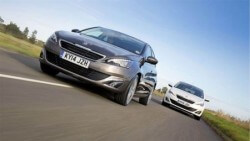 Follow these steps when overtaking another vehicle:
Maintain a distance of at least 2 seconds behind the vehicle in front of you just in case they suddenly brake. Stay further behind if it's a larger vehicle so that you can see in front of it.

Shift to a gear that will let you accelerate quickly as you pass if you are driving a manual car.

Follow this three step routine to get ready for overtaking:

Check your mirrors and do a shoulder check.
Indicate for at least 3 seconds before you make a move.
Check again if there is enough space to comfortably overtake and then check over your shoulder and your mirrors once more.
If it is safe to pass:
Accelerate and quickly move to the right and overtake the vehicle.
Start signalling left as you pass and prepare to pull in in front of the vehicle you have overtaken when you can see it in your rear mirror.
Do a shoulder check and pull back into the left lane.
Be ready to stop overtaking in case you feel uncomfortable about the gap.
5.13 HOW TO DO A THREE POINT TURN
Three point turns are done when you want to turn the car completely around, but there isn't enough space to make a U-turn. A three point turn is best done in an area that has no obstructions su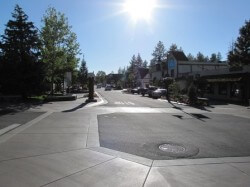 ch as lampposts and parked cars with at least 50m visibility in both directions.
Once you find a good spot to make the turn, follow these steps:
Indicate left for a minimum of three seconds before pulling over.
Then indicate right for a minimum of three seconds and start turning.
Start moving forward, if it's safe, ensuring that your steering wheel is turned all the way to the right.
Get to about 1 metre from the opposite kerb then quickly start turning the wheel to the left before bringing the car to a halt as close to the kerb as you can without touching it.
Looking over your shoulder, reverse, while turning the wheel to the extreme left if you hadn't already.
When you're back enough to complete the turn, start steering to the right before stopping the car.
Move forward to complete the turn, ensuring you're in the proper place on the road.
Three point turns should be done at walking speed, all the while you constantly check around you for hazards.
Watch our video on how to do a 3 point turn.
5.14 HOW TO SET UP YOUR TRAILER
Before setting off with your trailer in tow, there're a few steps that you need to follow to ensure that the trailer is properly attached to your vehicle and ready to go.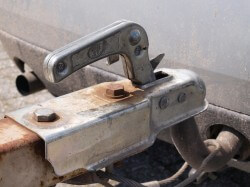 Here're the things you need to do before taking a trailer onto the road:
Make sure that the trailer is securely locked onto your vehicle's towbar.
Ensure that the safety chain is correctly attached.
Hook up the electrical connection and test to see if everything is working as it should. (You might require someone to help you check this as the controls have to be engaged for the brake lights and indicators to come on).
Make sure the load you're transporting is centred as much as possible and that it's securely fastened to the trailer.
Check and adjust your mirrors to ensure you can see behind you.
5.15 HOW TO REVERSE WITH A TRAILER
The most difficult part about reversing with a trailer is steering correctly. Because the trailer swivels on your vehicle's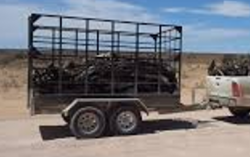 tow bar, you'll need to get the trailer to start moving in the direction you want before steering your vehicle through the turn to follow the trailer.
Here're some tips to help you steer your trailer in reverse:
Look beyond the trailer in your rearview mirror to where you want your trailer to end up.
Steer to the opposite side you want the trailer to go, i.e. steer right to move the trailer left and vice versa. A simple way to do this is to hold your steering wheel at the bottom and then move your hand to the direction you want the trailer to go.
Once the trailer starts moving in the direction you want, straighten your car's wheels again.
To make your car follow the trailer, move the steering wheel in the opposite direction to how you'd moved it when pointing the trailer to the target spot. Keeping your wheels straight as you reverse will make the angle between your car and trailer too tight making it impossible for your vehicle to push the trailer back.
Keep making small, smooth and regular movements with your steering wheel to move your trailer into place.
Previous Chapter Next Chapter
General Driving Driving Conditions
Category: A1 Learner Driver Tips EBOOK