Other Road Users - Learner Driver Tips [EBOOK] Ch 15
April 30, 2019 at 11:25 AM
In Chapter 15, learn all about sharing the road with other road users such as cyclists.
Jump To:
15.1 SHARING THE ROAD WITH OTHER ROAD USERS
15.2 TIPS FOR DRIVING AROUND CYCLISTS
15.3 HOW TO OVERTAKE CYCLISTS
15.1 SHARING THE ROAD WITH OTHER ROAD USERS
One of the keys to being a good driver is learning how to share the road with other road users.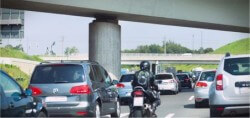 You need to know how to drive safely around other road users that are more vulnerable like pedestrians, cyclists and moped riders.
It can be hard to spot these other road users as they are smaller and they mostly use a different part of the road, thus the need to be extra careful.
Some of the places where you might find it difficult to spot other road users include:
Intersections
Driveways
Roundabouts
Carparks
Always remember to check and double check your mirrors and blind spots when driving in these areas to avoid an accident.
Other areas where you should be ready to slow down or stop, especially for pedestrians include:
Schools
Shopping centres
Bus stops
Pedestrian crossings
15.2 TIPS FOR DRIVING AROUND CYCLISTS
Cyclists are the second most vulnerable road users after pedestrians, and as such, drivers need to take extra care to ensure they don't put cyclists in danger when they meet on the road.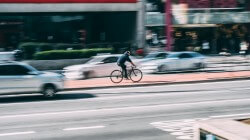 Here are a couple of tips for driving around cyclists safely:
Cyclists may sometimes move faster than you anticipated, so make sure to check that you're clear of them before you move back to your lane after passing them.
Allow at least 1.5 metres between you and the cyclist.
At intersections, apply the same rules to cyclists that you would to any other vehicle on the road. Take care to indicate turns.
If you are crossing a cycle lane, give way to cyclists before you cross.
Although cyclists usually ride on the far-left side of the road, they do sometimes need to move to the middle of the lane. Reasons why they might need to include: 1) Avoiding hazards on the roadside 2) Making themselves visible as they approach intersections and 3) When the road is too narrow for vehicles to pass them safely.
Be careful when opening the door after you stop your vehicle. Make sure to check your blind spots and mirrors before you open your door into traffic. You can ensure you always check by using your left hand to open the car door. This way your body swings around in your seat so that you're facing the side the traffic is coming from.
Cyclists generally move at a slower speed than cars, so you'll often find yourself needing to overtake them. Because of their vulnerability, however, you'll need to take extra care when passing them.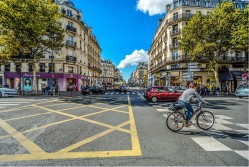 Here are the steps for passing a cyclist:
Check your mirrors and blind spot and indicate right.
If you're clear, move right and overtake the cyclist.
Indicate left as you pass the cyclist.
Look over your shoulder to ensure you're clear of the cyclist before moving back to the left.
Return your car to the correct position.
Check once more for the cyclist in your mirror to ensure they're safe.
Remember to:
Avoid crowding the cyclist by maintaining a distance of at least 1.5m between your car and them.
Ensure there's adequate space to pass safely. Slow down and wait if there isn't.
Previous Chapter Next Chapter
Hill Work Quick Reference
Category: A1 Learner Driver Tips EBOOK